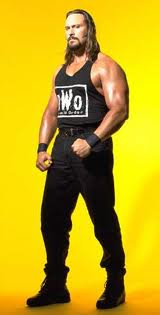 In 1994, Chainz briefly joined the
World Wrestling Federation
to perform as an impostor version of
The Undertaker
.
Ted DiBiase
, who originally introduced The Undertaker into the WWF at
Survivor Series 1990
, claimed to have done it again following The Undertaker's disappearance after the
1994 Royal Rumble
. The impostor, who competed for several weeks, was not guided by urns, but rather by "The Million Dollar Man" Ted DiBiase's money.
Paul Bearer
, the manager of The Undertaker, accused DiBiase of lying and claimed that he had "made contact" with the real Undertaker. At
SummerSlam '94
, the two Undertakers competed in a match (distinguished by grey vs. purple accents on their ring gear), which was won by Paul Bearer's Undertaker. After the match, DiBiase fled from ringside while The Undertaker rolled the impostor into a casket that was taken away by Druids.
In 1997, Chainz returned to the WWF as a member of the biker faction Disciples of Apocalypse (or DOA) along with leader Crush and his cousins, Skull and 8-Ball. The foursome feuded with Los Boricuas, the Nation of Domination, and the Truth Commission during the WWF's "Gang Warz" storyline. Chainz remained in the WWF until the summer of 1998 when he was released once again.
Ad blocker interference detected!
Wikia is a free-to-use site that makes money from advertising. We have a modified experience for viewers using ad blockers

Wikia is not accessible if you've made further modifications. Remove the custom ad blocker rule(s) and the page will load as expected.