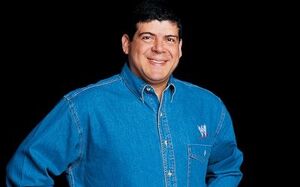 Cabrera has worked for WWE since 1993 and, alongside Hugo Savinovich and presently Marcelo Rodríguez, has been the Spanish announcer on Spanish language versions of Raw, SmackDown, Superstars, NXT, and pay-per-view (PPV) events. Their audio can be accessed in the United States via the SAP feature on most TV sets. Cabrera and Savinovich have a show on WWE.com called WWE En Español (WWE in Spanish), a thirty-minute program that serves as a recap of RAW, SmackDown, NXT, and pay-per-view events. The duo taped their one-hundredth episode in April 2006. Rodríguez was a frequent substitute host of the program until October 2011, when he became permanent co-host following the departure of Savinovich from the company.
In previous years, while working for WWE on its monthly pay-per-views, the announce table at which he has worked with Savinovich and Rodríguez, more commonly known as the Spanish announcers' table, has become a staple in modern professional wrestling as a convenient device on which for wrestlers to execute dramatic moves, such as the piledriver or the Pedigree, which almost always results in the destruction of the table, as it is designed to collapse on impact.
Ad blocker interference detected!
Wikia is a free-to-use site that makes money from advertising. We have a modified experience for viewers using ad blockers

Wikia is not accessible if you've made further modifications. Remove the custom ad blocker rule(s) and the page will load as expected.