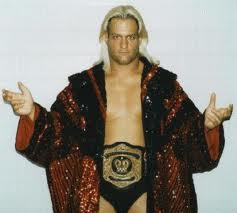 He had a very brief run in the WWF in late 1995 and early 1996 in which he wrestled Bret Hart in a WWF Title match televised on January 13, 1996. Landel also appeared at In Your House 5 in a losing effort to Ahmed Johnson. Landel made his RAW debut, defeating Bob Holly with his signature corkscrew elbow. He continued to use an appearance similar to Ric Flair, and even used Flair's early 90s WWF entrance music. Landel suffered a serious injury shortly after his debut. Later on in his career, Landel made several one night returns on the WWF Shotgun Saturday Night program, in losing efforts, on February 27, 1999, when Triple H defeated Buddy Landel.
On June 22, 2015, Landel passed away after complications from a car crash the day before.
Ad blocker interference detected!
Wikia is a free-to-use site that makes money from advertising. We have a modified experience for viewers using ad blockers

Wikia is not accessible if you've made further modifications. Remove the custom ad blocker rule(s) and the page will load as expected.