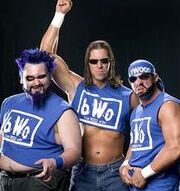 The bWo (Big Stevie Cool, Hollywood Nova and The Blue Guy) united in 2005 at WWE's ECW reunion show, ECW One Night Stand, coming to the ring before the Dudley Boyz versus Tommy Dreamer and The Sandman match.
On July 7, 2005, the bWo reunited once again, this time to confront JBL since he sought out The Blue Meanie and punched him repeatedly after Meanie called him a "Backstage Bully". The attack by JBL caused Meanie to tear some recent stitches and bleed at One Night Stand. JBL then taunted the bWo. This led to a Meanie versus JBL match. Richards delivered a nasty chairshot to JBL during the match that busted him open. The Blue Meanie won the match after he hit his finisher, the Meaniesault, and Batista ran in and gave a spinebuster to JBL and threw an out-of-it Meanie on top of JBL.
Later, the bWo challenged The Mexicools to a match at The Great American Bash, with Stevie Richards saying the bWo was tired of the Mexicools interfering in people's matches. The three members appeared on WWE Velocity in a six-man tag match against 3 jobbers to prepare themselves for their tag match against the Mexicools. At the Great American Bash, the bWo and Mexicools met in a six-man tag match. They even drove into the ring on tricycles to parody the Mexicools' usual ring entrance on John Deere lawnmowers. The bWo lost the match after Super Crazy hit a moonsault and Psicosis hit the guillotine legdrop on Big Stevie Cool for the win. As the month of July ended, the bWo faded from the scene. Stevie Richards went back to his old gimmick, as did Hollywood Nova (Simon Dean), while Blue Meanie was never officially contracted by WWE.
Ad blocker interference detected!
Wikia is a free-to-use site that makes money from advertising. We have a modified experience for viewers using ad blockers

Wikia is not accessible if you've made further modifications. Remove the custom ad blocker rule(s) and the page will load as expected.