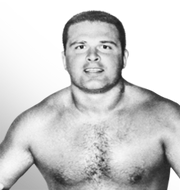 As a professional wrestler, he famously feuded with WWWF Champion Bruno Sammartino, but was unable to win away the belt.
Bill later went on to a position of booking power in the World Wrestling Federation, his tenure there was short, as Watts stated in later interviews that he was only up there on a three-month contract and had no interest in staying long-term. On April 4, 2009, Watts was inducted into the WWE Hall of Fame as a part of the Class of 2009.
Ad blocker interference detected!
Wikia is a free-to-use site that makes money from advertising. We have a modified experience for viewers using ad blockers

Wikia is not accessible if you've made further modifications. Remove the custom ad blocker rule(s) and the page will load as expected.