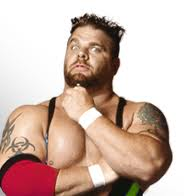 In 2001, DeMott signed a deal with the WWF and became part of The Invasion angle under the name Hugh Morrus as a member of
The Alliance
. Morrus made his WWF debut on the June 4, 2001 episode of
Raw
by attacking
Edge
. Aside from a pay-per-view match at
Invasion
on July 22 where he,
Shawn Stasiak
and
Chris Kanyon
defeated
Big Show
,
Billy Gunn
and
Albert
and an
Intercontinental Championship
match on the August 27 episode of
Raw
which he lost to Edge via disqualification, Morrus was relegated to wrestling on the company's secondary shows
Heat
and
Jakked
. When The Invasion ended at
Survivor Series
following Team Alliance's loss to Team WWF, Morrus was kayfabe fired by
Vince McMahon
. While off television, Morrus performed at house shows.
In April 2002, Morrus was drafted to the SmackDown! brand. He made his television return on the April 6 episode of Jakked alongside Chavo Guerrero and defeated The Hurricane and Funaki. Morrus was soon relegated to being a mainstay on Jakked and later Velocity until late July 2002, when he was legitimately injured. During his time away, he became a trainer for the third season of Tough Enough, WWE's reality television show.
When he had sufficiently healed, Morrus made his return on the November 23 episode of Velocity under his real name. DeMott made his SmackDown! debut on December 5 as a heel, where he defeated Funaki in a squash match. The victory saw DeMott immediately receive a push that saw him squash several established wrestlers, including Funaki, Shannon Moore, Chuck Palumbo, Crash Holly, and Rikishi weekly on SmackDown!. However, his came to an end soon and saw DeMott relegated back to Velocity beginning in February 2003. In May, DeMott made a face turn that also saw him tell knock-knock jokes as part of the turn. As the gimmick failed to get over, he remained on Velocity while continuing to win several squash matches. DeMott wrestled his last televised match on the June 14 episode of Velocity, where he defeated Chris Kanyon. Later that month, DeMott retired from in-ring action, citing years of knee injuries. He then moved on to become the color commentator for Velocity, beginning on the November 1 episode, and remained in that position until the end of 2004.
In 2011, WWE announced that DeMott would return to the company to perform as the head trainer on the revived Tough Enough series. When NXT was rebranded in August of 2012, DeMott was placed as head trainer. DeMott resigned from the company on March 6, 2015.
Ad blocker interference detected!
Wikia is a free-to-use site that makes money from advertising. We have a modified experience for viewers using ad blockers

Wikia is not accessible if you've made further modifications. Remove the custom ad blocker rule(s) and the page will load as expected.