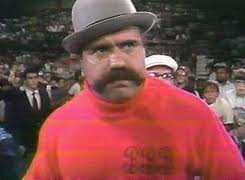 Busick started his professional wrestling career in the World Wide Wrestling Federation (WWWF), which used "local talent".
Busick utilized the gimmick of a vintage town bully, complete with derby hat, cigar, and bushy handlebar mustache. In addition to bullying his opponents, Busick (along with his manager Harvey Wippleman) would antagonize fans at ringside, committing such acts as popping a child's balloon[1] with his cigar. He even harassed ring announcer Mike McGuirk, which eventually led to a save from opponent Sid Justice in a quick loss for Busick. After having spent weeks primarily squashing enhancement talent, Upon leaving the then WWF, Busick entered into a small feud with the Brooklyn Brawler after the Brawler challenged Busick to match to see who was the real bully of the WWF. The Brawler defeated the Bully by countout and in a rematch one week later saw the Brawler failed attempt to dominate the Bully with Wippleman grabbing the Brawler's leg leading to a controversial win for the Bully. Busick would spend his time in the WWF wrestling popular talent such as Bret Hart, Davey Boy Smith, Kerry Von Erich, and Jimmy Snuka before leaving the company in November 1991.
Ad blocker interference detected!
Wikia is a free-to-use site that makes money from advertising. We have a modified experience for viewers using ad blockers

Wikia is not accessible if you've made further modifications. Remove the custom ad blocker rule(s) and the page will load as expected.