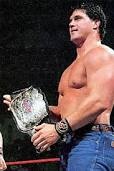 Bart Gunn was famous in the World Wrestling Federation as one-half of the tag team The Smoking Gunns with his kayfabe brother Billy Gunn. The team were WWF World Tag Team Champions three times before breaking up and engaging in a brief feud. Bart Gunn briefly went into solo competition with his most high profile match at the time being on Monday Night Raw in February 1996 when he lost to an up and coming Stone Cold Steve Austin when Austin made Bart Gunn pass out to his sleeperhold finisher.
Gunn then recreated the Midnight Express tag team as "Bodacious Bart" with partner "Bombastic" Bob Holly. The team had limited success, though they did hold the WWE World Tag Team Championship for a brief period in 1998.
When the WWF announced a shoot tournament called the Brawl for All in which the competition would be real and winners would not be predetermined, Bart Gunn participated. Gunn actually drew partner Bob Holly in the first round but was declared the winner by the complicated point system. When Gunn fought Steve Williams, many were surprised when he won by knockout. He won the tournament with a victory over the Godfather in the semi-finals and Bradshaw in the finals.
Afterward, Gunn feuded with both Holly and Williams, the pair angry at having been beaten in the tournament, the latter masking himself and pushing Gunn off a stage. To continue capitalizing on the impressive Brawl for All showing, the WWF set up a Brawl for All match between Gunn and heavyweight boxer Eric "Butterbean" Esch at WrestleMania XV. Esch knocked out Gunn within 30 seconds. Gunn was soon released by WWF
On the RAW 15th Anniversary Spectacular on December 10, 2007, Gunn participated in the 15th Anniversary Battle Royal and was eliminated by Steve Blackman.
Ad blocker interference detected!
Wikia is a free-to-use site that makes money from advertising. We have a modified experience for viewers using ad blockers

Wikia is not accessible if you've made further modifications. Remove the custom ad blocker rule(s) and the page will load as expected.