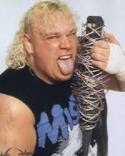 On the June 6, 2005 episode of Raw, Rotten debuted in World Wrestling Entertainment (WWE), storming the ring with several other superstars. Rotten went on to appear at the two ECW reunion shows taking place that month. At ECW One Night Stand on June 12, 2005, Rotten, Mahoney and Kid Kash attacked the Blue World Order after they interfered in the main event tag team match. Following the events, Rotten and Mahoney wrestled several dark matches for WWE, but were not signed to contracts.
Axl Rotten was listed as an ECW wrestler on the official ECW.com website, however events put his future within the new ECW Brand in jeopardy. Rotten failed to show for the June 5 edition of Raw in an angle involving several other ECW wrestlers. WWE management was not happy with Rotten no showing at Raw. Furthermore, it was confirmed that Rotten was not backstage at the WWE vs. ECW Head to Head special that aired on USA Network on June 7. Rotten also did appear at the ECW One Night Stand pay-per-view event that was held on June 12, 2005. He was then removed from the roster on the ECW.com website. Rotten was released before he could even compete in the new ECW.
On February 4, 2016, Rotten passed away.
Ad blocker interference detected!
Wikia is a free-to-use site that makes money from advertising. We have a modified experience for viewers using ad blockers

Wikia is not accessible if you've made further modifications. Remove the custom ad blocker rule(s) and the page will load as expected.