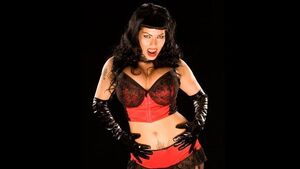 In mid-2006, Ariel joined the ECW brand as a tarot reading fortune teller. Originally, Ariel was to be part of a 'vampire' faction with Gangrel and Kevin Thorn; however, the faction did not materialise on television. Instead, Ariel and Thorn began appearing in vignettes together, and on July 25, Thorn made his in-ring debut with Ariel acting as his valet.
Ariel then increased her ringside presence during Thorn's matches, often interfering in his matches, and Thorn began a scripted feud with Balls Mahoney. In order to counteract Ariel's interference, Mahoney began bringing in Francine as an equalizer. Ariel made her ECW in-ring debut against Francine on September 26 in an "Extreme Catfight", which ended as a no contest due to interference from both Thorn and Mahoney. The two teams feuded until early October, until Francine was released by WWE. During a match between Thorn and CM Punk, Kelly Kelly interfered in order to help Punk. As a result, Punk won the match, and Ariel and Thorn attacked Kelly after the match. At the December to Dismember pay-per-view, Thorn and Ariel defeated Kelly and Kelly's on-screen boyfriend Mike Knox in a mixed tag team match, after Knox walked out on Kelly. The next week on ECW, Ariel lost to Kelly in a singles match, when Kelly utilized a roll-up for the victory.
On February 6, 2007, Ariel and Thorn joined Elijah Burke, Matt Striker, and Marcus Cor Von in forming the New Breed stable. Ariel began accompanying the New Breed to the ring during their matches, and appeared at WrestleMania 23, managing the New Breed during their match against the ECW Originals. Shortly afterward, Burke announced a match between Thorn and CM Punk, after Punk had betrayed the New Breed, but Thorn lost. After the match, Thorn quit the New Breed, as none of the other members interfered during the match to help him. A few weeks later, on May 18, Ariel was released from her WWE contract.
Ad blocker interference detected!
Wikia is a free-to-use site that makes money from advertising. We have a modified experience for viewers using ad blockers

Wikia is not accessible if you've made further modifications. Remove the custom ad blocker rule(s) and the page will load as expected.