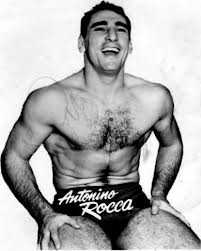 Rocca was defeated on April 29, 1963 in the finals of a tournament for the World Wide Wrestling Federation Championship by Buddy Rogers.
In the mid-1970s, he teamed up with Vince McMahon to handle the color commentary on the WWWF's weekly television show.
Rocca died on March 17, 1977. He was inducted posthumously into the WWE Hall of Fame in 1995.
Ad blocker interference detected!
Wikia is a free-to-use site that makes money from advertising. We have a modified experience for viewers using ad blockers

Wikia is not accessible if you've made further modifications. Remove the custom ad blocker rule(s) and the page will load as expected.