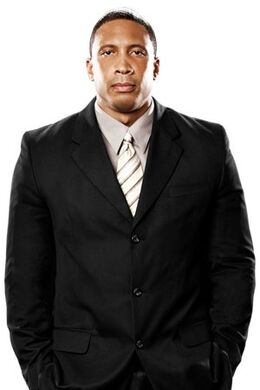 Washington made his ECW debut on June 30, 2009, with an in-ring interview segment called The Abraham Washington Show. He interviewed The Bella Twins, causing a fight between the two after they argued over the questions. He went on to interview the likes of Christian, Matt Hardy, Tommy Dreamer, Sheamus, Gregory Helms, John Morrison, Zack Ryder, Goldust, Trent Barreta, Caylen Croft, and Maria. Hall of Famer Tony Atlas acted as his sidekick and announcer, with the segment taking place from the stage. After the ECW program was cancelled, Washington became a free agent along with all the other ECW talents, though he never signed with Raw or SmackDown.
Washington returned to WWE television in April 2012 as A.W. On the April 2 episode of Raw, he offered to manage Mark Henry and gave him a business card for his talent agency "All World Promotions". He was also seen on the April 16 edition of Raw, scouting Primo and Epico from the stage. On May 3, 2012, it was announced on WWE.com that A. W. had signed Primo & Epico, as well as their valet Rosa Mendes as his first clients. However, a month later at No Way Out, Washington turned on his original clients and joined the team of Darren Young and Titus O'Neil. On August 10, 2012, Washington announced via Twitter that he had been released.
Ad blocker interference detected!
Wikia is a free-to-use site that makes money from advertising. We have a modified experience for viewers using ad blockers

Wikia is not accessible if you've made further modifications. Remove the custom ad blocker rule(s) and the page will load as expected.